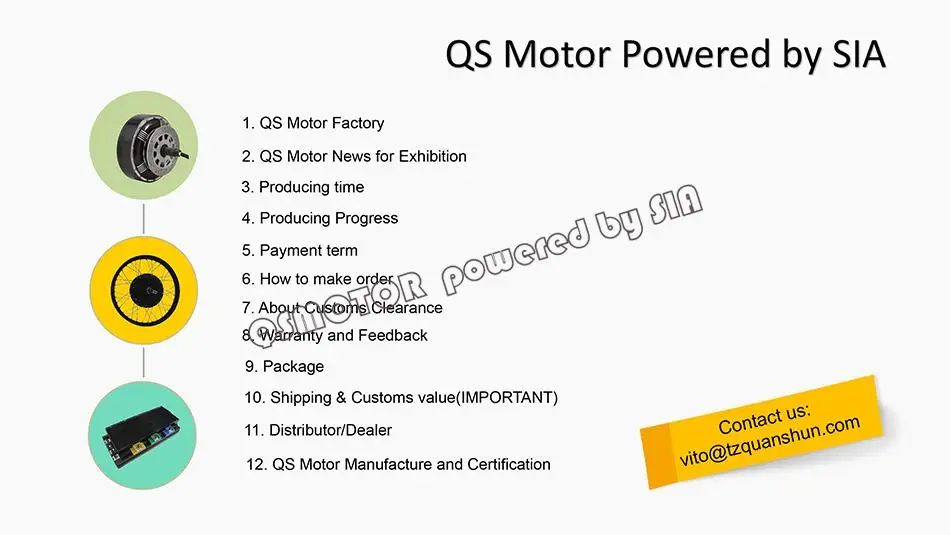 1. QS Motor Factory
Company Name: Taizhou Quanshun Motor Co., Ltd(not QS MOTOR LIMITED)
Location: Jin Bei Avenue, Lin's Village, Jinqing Town, Luqiao District, Taizhou City, Zhejiang Province, P.R China
Registered Trademark: QSMOTOR
Main Products: 500w-14kw Rated Power BLDC Hub Motor, Mid-drive Motor, Customized Motor etc.
Establishment Year: 2000
Certification: CE, EMC, TS16949(for Viet Nam Market), CCC, ISO9001
Service: OEM & ODM are available
Why powered by SIA: Taizhou SIA trading Co.,Ltd (SIA) is the subsidiary company of Quanshun Motor Co.,Ltd (QS Motor), who devotes on electric motor & kits. SIA is one and only of exporting department of QS Motor/Taizhou Quanshun Motor Co.,Ltd and has own sale department, export department, general accounting department, after-sale service department, personnel department, general affairs department and so on.

2. QS Motor News for Exhibition
Latest!! QS Motor participate in SAIGON AUTOTECH 2017, Viet Nam
Date:22th-28th May, 2017
QS Motor participated in INTERMOT 2016, Cologne Germany
Date: 4th-9th Oct., 2016
3. Producing time
For normal motors, it will takes 12-13 business days (6 business per week).
For customized motor & single shaft motor, it takes 18-19 business days (6 business per week).
In busy season, the order might be postponed. For mass production, the produce time will be increased accordingly.
PS. For the 3000W 205 50H V3 spoke hub motor, we made some 24*5T & 30*4T motor in store.
For some accessories, the producing time normally no more than 10days, and sometimes can be send out within 2days if we have it in stock.
Would you like to expand the delivery time to 15days from 7days? Because Aliexpress not allowed us to write the exact delivery time while they only limit supplier to write delivery time within 7 days, that's why you see all of our products with 7days delivery time.
For customized products, pls. expand to the time to we talked.
QS Motor V1/V2/V3 Type Motor
There are three types, Normal/V1 type (low cost), Export/V2 type (Cost-effective) and Extra/V3 type (Best Performance).
1. Difference between V1 & V2
Holder: Iron(V1), Aluminum (V2)
Hall: One hall with Normal connector(V1), Two halls with Waterproof connector(V2)
Stator: V2 have a stronger configuration, more cooper, thicker section surface, energy saving in usage.
Magnetic Steel Grade: V2 ≥ V1
Efficiency: 84~87%(V1) 86~88%(V2)
In short, normal type is standard configuration, while export type is high configuration.The price differs because of the cost of raw materials.
2. Difference between V2 & V3
The raw materials are alike, main difference in inner construction.
For V3 (16 Pole Pairs): stronger configuration than V2, wider lamination,
more cooper wire /thicker Cross-sectional area section, bear more current
in usage. Higher torque at same current, lower temperature rise, more stable in high current.
Magentic Steel: V3 is wider and thicker.
Efficiency: 86~88%(V2) 88~92%(V3); Thus, V3 have best performance.
PS. for the same V1 steel/iron stator motors, QS Motor performance better on lifetime & stability becasue of good raw material. So the cost is more than normal hub motor in the market.
E.g. 1. Choose C&U bearing which is motorcycle standard, more quiet when riding.
2. High Coil space factor, better efficiency.
3. Silicon steel sheet 0.35mm instead of 0.5mm, less current consumption & low temp rise.
4. Insulation varnish outside of varnished wire, max 180 ℃ than normal 120 ℃.
5. Better magnet, demagnetizing less than 1% than normal 3%.
For the max continuous power rating
The data should be tested in lab, which means no further temp rise at the power (e.g. 100 degree inside of motor at the power). Unluckly, all the continuous power rating is not done before.
Due to our understanding and feedback of customer, for 205 3000W motor, the max continuous power could be 6000W, peak power 12kW (even 18kW).
For EV enthusiastic, they could input more power to enjoy the high performance, but the motor might suffer from over heating or even burnt, please set temp protection of controller to protect motor.
For EV Manufacture, we should notice the potential performance of motor, and keep some allowance for the whole e-scooter kits. include motor, controller, battery. to get them as stable as possible & decress the repair rate (consider all the usage environment). E.g. 3000W as continuous rating power.
Temp Sensor Options: KTY84/130, KTY83/122, 10K@25C NTC(model MF58-103F3950).
QS Motor could work 120 ℃ in half an hour without damage.
Suggestion (Setting of Controller)
When it's 130 ℃ inside of motor (in 30s), the current should be limited 50%.
When it's 150 ℃, the controller shut down. When it drop down to 110℃, the controller work again.
Customized Logo on side cover
For samples, "QSMOTOR" logo is laser print on side cover as default.
Meanwhile, the logo could be customized with below essential document.
· Please provide high definition logo in jpg format.
· Brand Letter of Authorization.
· Certificate of Trademark Registration
· Please advise the position & Size of your logo on side cover.
QS Motor Steel Seal
We could laser print it on side cover or edge of side cover.
For V3 type motors(e.g. WP20040X140607 7355)
WP= V3 type 200=2000W, 300=3000W
40 means winding 4T, X means 32 pieces magnetic steel (V3)
140607 means producting date, 07th, June, 2014. 7355, is producing serial number
For spoke hub motor (e.g. QSWP48V3000W170321 3006851).
WP=V3 type, 48V3000W=48V 3000W, 170321 means producing date, 21st Mar., 2017.
300=300RPM, 6851 is producing serial number.
PS. Sometimes 300 might be 30, it's also means 300RPM.

For V2 type motors(e.g. QSMOTOR 48V3000W 140720 604329)
48V3000W=48V 3000W 140720 means producing date, 20th, July, 2014.
60 means rated speed, 60km/h. 4329 is producing serial number.
P.S.: We define power base on rated output power, rather than peak output power.
How to find suitable hub motor
To customized a suitable motor, could you pls. inform below points:
1.E-scooter, E-tricycle or E-car, tire model?
2.Volt and wattage of motor, Speed(kV), and torque/climb angle ?
3.Your vehicle weight and loading weight?
4.Lithium or lead-acid Battery?
We could suggest most suitable motor accordingly, thank you for your cooperation.
PS. To calculate the speed, v(km/h)=n(r/min)*2rπ(m)*60/1000, n=load RPM, r=tire radius.
For speed less than 100KPH, consider the Windage Resistance & Rolling resistance.
the load RPM is appr 0.9 * no-load RPM. v(km/h)=0.9*n(r/min)*2rπ(m)*60/1000
For over 100KPH, V=0.85*RPM*2rπ*60/1000
4. Producing Progress
5. Payment term
For Sample, Generally, we perefer Bank transfer/Wire Transfer/TT 100% in advance.
Meanwhile, for less than USD750.0, Money Gram,Western Union, Paypal, Alipay is acceptable.
For Paypal, there will be extra cost for transaction fee: Total cost*4.4%+0.3, withdraw fee: USD 35.0 (we could bear USD 35.0).
For Alipay (online),there will be extra cost for transaction fee: Total cost*5.0% (Online quotation already include the cost).
PS. As China supervision bureau published some new strictly policy in the new year, all payment should be through bank transfer, and the customs declare value should keep the same as the invoice.
Our Company financial rules updated accordingly, the order have to be more orthonormal, only if for really small amount, like USD30 for small kits, other payment term are acceptable. Thank you for your understanding in advance.
For Mass Production, 30% T/T in advance + 70% T/T the balance before shipment.
6. How to make order
·Before-sale, please advise which motor do you prefer, and advise above expected configuration of EV if possible.
After confirming motor, we could also advise suitable motor kits (e.g. controller).
It could be paid online, e.g. QS Motor Shop on alibaba, aliexpress;
We suggest to make the deal offline, we will make PI accordingly (latest price & accurate delivery cost).
·In-sale, we will informe you once received the payment to start the order & ETD.
Before delivery, we will send some pictures for reference.
·After-sale, Once got the tracking number, will informed you immediately.
Manual and software will be sent accordingly, also we will email you after the package delivered.
7. About Customs Clearance
For some special countries with strict customs for import, pls. confirm it firstly to us that you have ability to do customs clearance, otherwise we will not take on heavy responsibilities for this issue, return money and goods are not support.
Special countries list:
Argentina, Brazil, Egypt, Turkey, Iran,Portugal,Romania, Kazakhstan, Ukraine, Yeman etc.
Some countries name not listed, the salesman will inform you in time if you placed the order online directly. Thank you for your understanding.
8. Warranty and Feedback
The Life Time of motor depends on usage.
For general usage, it's about 3-5 years, and it could be 5-7 years if it work in good condition.
For testing and abusing usage, the lifetime will decrease accordingly.
E.g., For 3kW V2/V3 motor, the peak power could be 6kW (2 times of rated power).
Situation 1:
We suggest peak 70-80A battery current for general usage (72V). It's most stable configuration & longest life time.
Some EV enthusiast adjust it to be 150A, the output power is far more than 6kW peak. QS Motor could also work,
which might not as stable as former situation. For a long time in high current/power, the motor might over heat & even burnt.
We strongly suggest to install Thermic Probe (e.g. KTY 83/122), so that controller will protect motor due to the temp inside of motor.
Situation 2:
The peak speed of 1pc 3kW motor is 80KPH in 72V(for e-scooter).
Some EV enthusiast adjust it to be 96V, the max speed might be 100KPH, the continuous output power is far more than 3kW rated (maybe equal to 5-6kW).
QS Motor could also work, which might not as stable as it in 72V.
We call it over voltage/abusing usage, the life time might be shorter, and V3 will work better than V2.
Warranty period for motor: one year and three months (since the date of manufacture) or after riding 15000KM.
Warranty period for other parts: one year (since the date of manufacture)
For Sample, If it's destructive test/abusing usage due to test purpose, we could not do after-sale issue for free.
If there is some damage during your test, which we could repair.
After checking your video or pictures, we could deliver some motor parts (e.g. hall sensor) for maintenance. Also, you could deliver them back to our factory(I'm afraid that you have to bear delivery fee, both way), we will make maintenance as possible as we could. For repair fee, we could bear the cost for 1 year.
About your feedback for our products
Your feedback is very important for us, not only positive feedback but also negative feedback, we will deal with all issues in time and give you an solution in time. Meanwhile, if you are satisfy on our products, your five star feedback online would be highly appreciated.
9. Package(standard export packing)
1). Polyfoam box + carton box (for sample)
2). polyfoam box + carton box + wooden box (for special sample)
3). polyfoam box + carton box + pallet (for mass order)
4). Or according to customer's requirements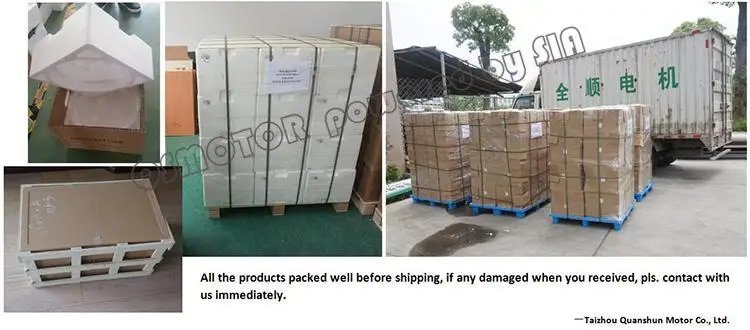 10. Shipping & Customs Value
1). Samples can be shipped by Express(like DHL, FedEx, UPS, EMS, TNT etc.), sometimes by sea and by air also optional.
2). Mass order can be shipped by sea and by air.
3). Or you can pick the good in our factory.
Meanwhile, would you like to confirm me below points that we could arrange the shipping in time?
1. Do you have requirement on customs value and products name? As default, we will write same value as you paid.
2. Other requirement?
P.S.: if we write in low value for the products, and the goods missed during shipping, we(and you) only can get compensation from shipping company same with declare value. So we will write the real value for declare if you don't point it out before shipping.
11. Distributor/Dealer
Firstly, thank you for your support on QS Motor.
If you tested QS Motor, and interest to be the dealer for better price & service.
Meanwhile, able to do some maintenance of hub motor (e.g. change hall sensors).
Welcome to be QS Motor Dealer.
For QS Motor, there are different grade of dealer as follow.
Potential Distributors
No MOQ limited, annual order above USD 10000.0 (seats limited).
For potential distributors, the price will be much cheaper which base on the Dealer Quotation Regulartion (e.g. offer 20-29pcs quotation for < 20pcs, even for sample).
We don't have to sign the dealer contract, the setas limited (5 customers for each saler).
Moreover, we support wholesale, if your customer/friend need motors, we could send the motor from our warehouse & do transaction with you. In this way, you could help your friend to save money.
Validity: 1 Year since 1st order with new price.
Advantages:
1).Better price on Motor & Other Kits we could offer
2).If deliver some motors together by express, air cargo or sea shippment, the delivery cost per motor will be much less than 1pc by express. In this way, you will have better price than us for local market (consider the delivery cost).
Official Dealer
The quotation will be much better base on different MOQ & annual quantity, refer to the Dealer Quotation Regulartion for details.
1)MOQ 15-29pcs, annual 100pcs
2)MOQ 30-49pcs, annual 120pcs
3)MOQ 50pcs, annual above 120pcs
4)MOQ 50pcs, annual above 500pcs.
Validity: 1 Year
Advantages:
1).Official dealer have all right of the Potential Distributors.
2).Dealer could leave some motors in our warehouse, if their customer need samples, we could send from our warehouse.
Please don't hesitate to contact with us if any interest!
12. QS Motor Manufacture and Certification
Certification: Business License, Patent Certificatie, ISO9001 Certificate, CCC Certificate, CE Certificate, Brand Certificate.
Statement of Taizhou Quanshun Motor Co.,Ltd & Taizhou SIA Trading Co.,Ltd
QS Motor/Taizhou Quanshun Motor Co., Ltd. is a leading Electric In-Wheel Hub Motor Manufacturers in China, QS Motor or QSMOTOR in short. We're the MANUFACTURER of High Power and Quality BLDC hub motor, in-wheel motors with competitive price for 16 years! Include Electric Scooter Hub Motor, Electric Bike Hub Motor, Electric Car Hub Motor, Electric Single Shaft Hub Motor, etc. No QS Motor,No Super EVs!
Taizhou SIA trading Co.,Ltd is the subsidiary company of QSMOTOR, who devotes on electric motor & kits.
In order to protect the intellectual property rights, prevent counterfeit and shoddy products, hereby, Taizhou Quanshun Motor Co.,Ltd. would like to state that Taizhou SIA Trading Co., Ltd. is our own and the only official Export Department.
Both sides authorize the following websites as our formal channel of distribution:
PS. QS Motor is a sisiter company of Taizhou Quanshun Vehicle Accessories Co., Ltd., QS Wheel in short.
Official website: http://www.cnqsmotor.com/en/
Alibaba: http://tzquanshun.en.alibaba.com/
Endless-Sphere Forum: https://endless-sphere.com/forums/viewtopic.php?f=31&t=65972
Alibaba: http://qsmotor.en.alibaba.com/
Aliexpress: http://www.aliexpress.com/store/1389549
Facebook: https://www.facebook.com/tzqsmotor/?ref=bookmarks
Video on Youtube: https://www.youtube.com/channel/UCJ5dNY35WjgGx98jDeDo2Pg/feed?view_as=public