QS Motor 800W 205 27H V1 E-bike Spoke Hub Motor
When placing order, pls. advise below points as detailed as possible.
1. E-bike or E-scooter, tire model?
2. Voltage and wattage of motor, Speed, and torque/climb angle ?
3. Your vehicle weight and loading weight?
4. Lithium or lead-acid Battery?

Thank you for your cooperation.
²
Motor Spec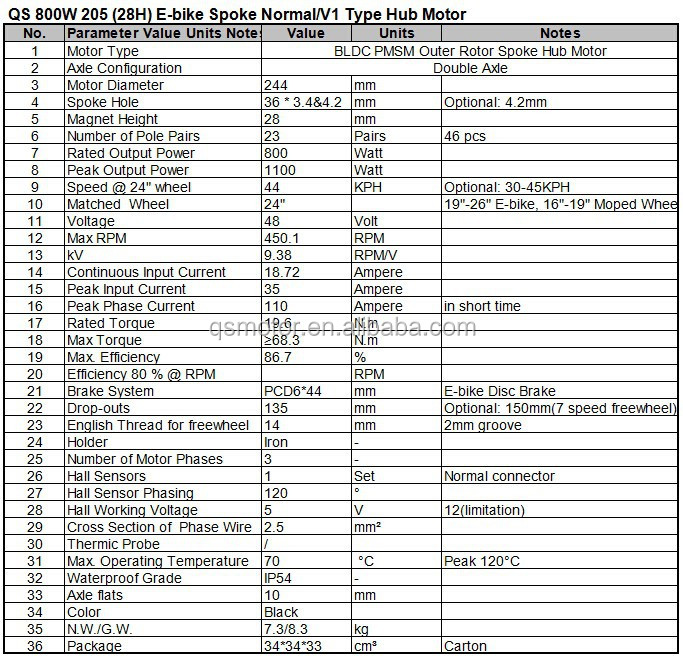 More pictures of motor:
²Controller Suggestion
The power of controller should ≥ power of motor.
For 205 800W motor(rated speed 30-45km/h), you could choose 33-35A(limited current) controller.
Square Wave Controller: Kelly Controller KBS48121.
Sine wave controller: HY Controller 48v35A
²Motor Design of inner configuration
There are three types, Normal/V1 type (low cost), Export/V2 type (Cost-effective) and Extra/V3 type (Best Performance).
1. Comparison between V1 and V2.
Holder: Iron(V1), Aluminum (V2) Hall: One hall with Normal connector(V1), Two halls with Waterproof connector(V2) Stator: V2 have a stronger configuration, more cooper, thicker section surface, energy saving in usage. Magnetic Steel Grade: V2 ≥ V1 Efficiency: 84~87%(V1) 86~88%(V2) In short, normal type is standard configuration, while export type is high configuration. The price differs because of the cost of raw materials.
2. Comparison between V2 and V3.
The raw materials are alike, main difference in inner construction. For V3 (16 Pole Pairs): stronger configuration than V2, wider lamination, more cooper wire/phase wire and thicker Cross-sectional area section, bear more current in usage. Magentic Steel: V3 is wider and thicker. Efficiency: 86~88%(V2) 88~92%(V3) Thus, V3 have best performance.
²Test Report
More test report:
²CAD Drawing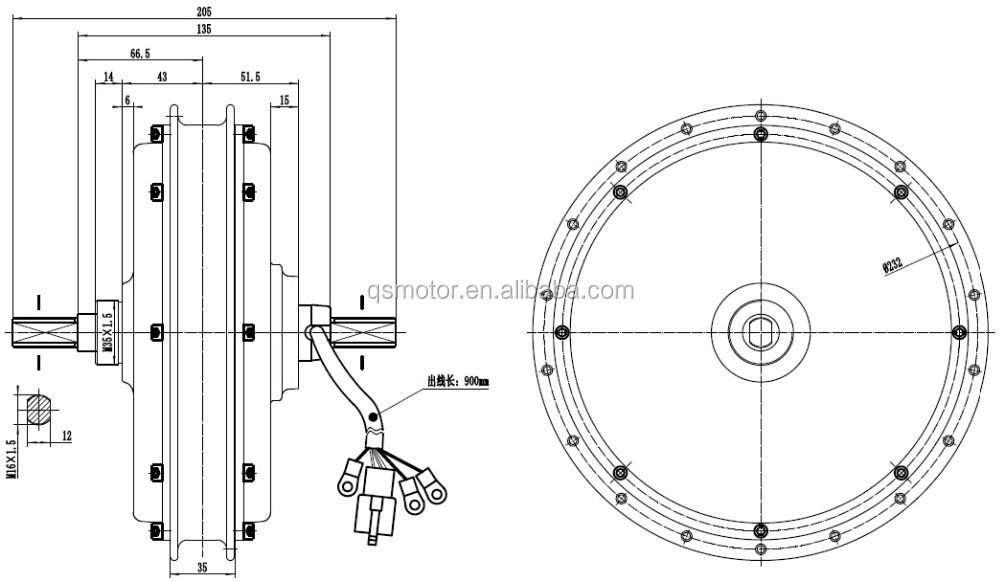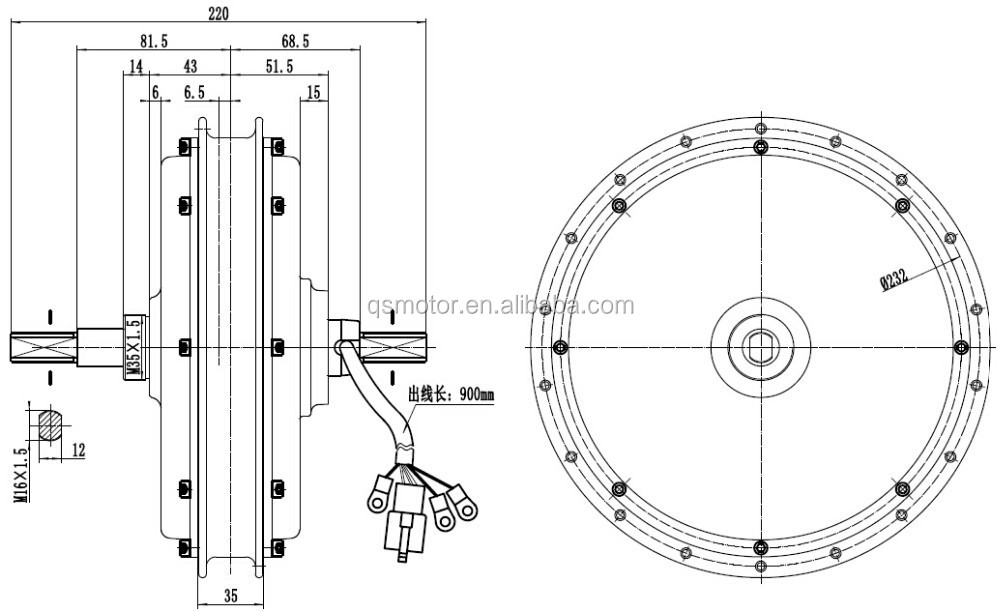 Brake: PCD6*44mm for e-bike disc
Drop-outs: 135mm for single-speed freewheel
150mm for 7-speed freewheel
Thread: B 1.375*24G English Thread
Spoke Hole: 4.2mm hole suit 8G/9G/10G spoke, 3.4mm hole suit 12G/13G/14G spoke.
Tips: Please advise the Spoke size & thread model when placing order, or we would make 3.4 & 4.2mm spoke & provide English Thread as default.