QS Motor 17X4.5inch 12kW-14kW 273 Water Cooled Electric Motorcycle Hub Motor
Many Customers ask us for the 14kW, 12kW Motor, as the old mould is opened for another customer (the cost is very expensive).
Now, the new 17"X4.5" mould is ready, it could be 12kW 273 70H, and 14kW 273 80H.
The mould is made for water cooled version. It could also be customized to be air cooled.
Please note the wheel, two side covers, stator are all new mould, not made by hand.
So this is the most poweful QS Motor hub motor, ready for mass production.
It could be 12000W 70H V3 Water cooled & Air Cooled, 14000W 80H V3 Water Cooled & Air Cooled.
For E-scooter wheel hub motor, we also provide the 12-17inch type, you can refer below link for the detailed information: https://qsdrive.en.alibaba.com/productgrouplist-806436058/Electric_Scooter_Motor.html
1. Key Features
1). Simplify to make a electric-scooter. Gearbox, transmission shaft, clutch are no need. Which save space.
2). It could be installed in the rear to save more space for battery.
3). Support regenerative braking
4). High efficiency: 85~92%
2. QS Motor 17*4.5inch 12kw-14kw Water Cooled & Air cooled E-scooter/Motorcycle PriceList
3. Production Description
PS. Minmum Dropout 230mm.
For 14.5kV, the winding is 3 X (28X6T) in parallel, equal to 17.13mm² per turn. Phase Wire, to be determined.
4.Pictures
17X4.5inch 12kW 273 70H Water Cooled Hub Motor (Silver)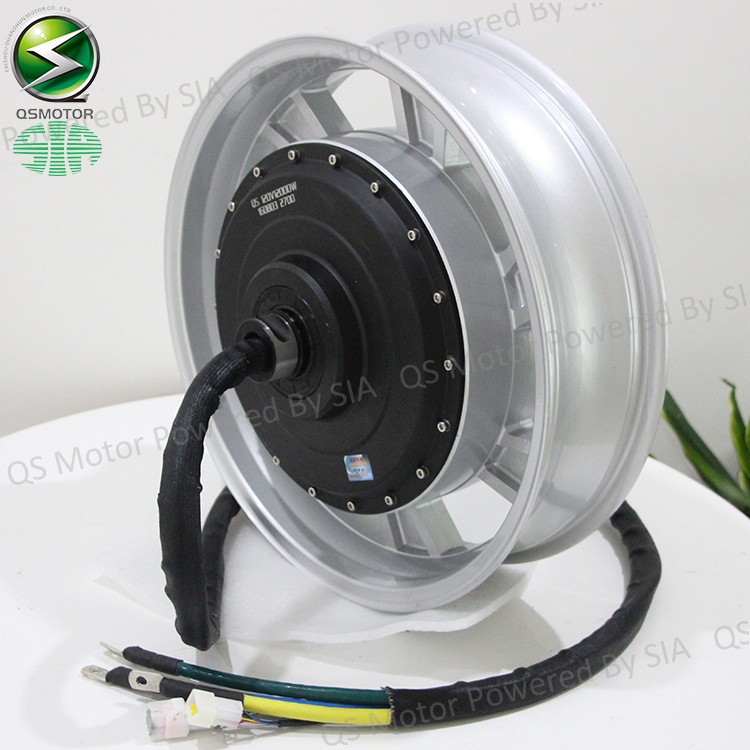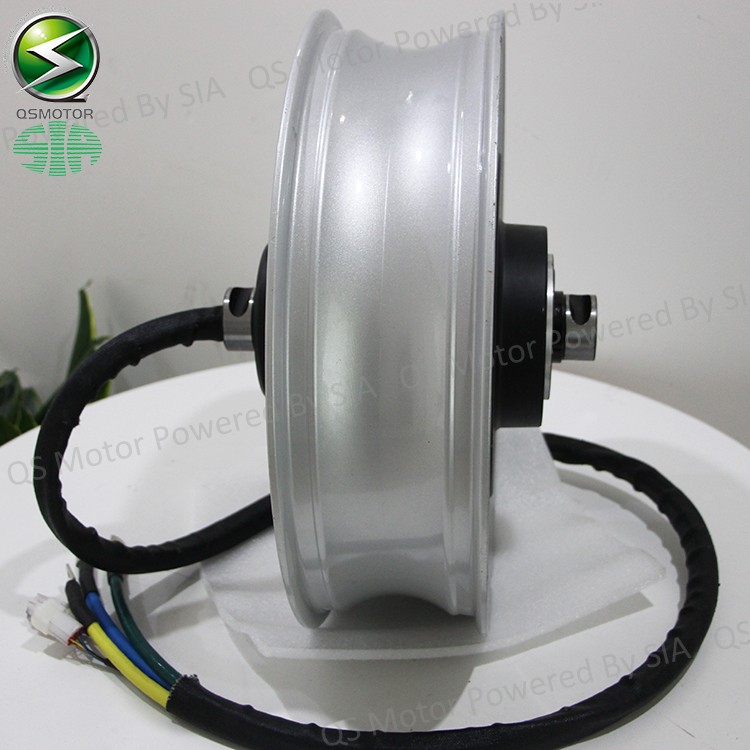 17X4.5inch 14kW 273 80H Air Cooled Hub Motor (Black)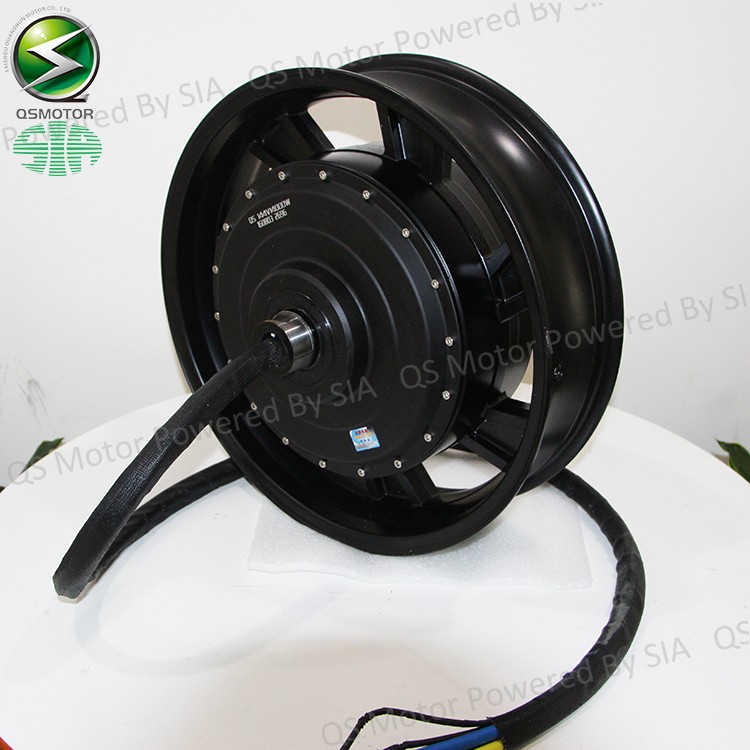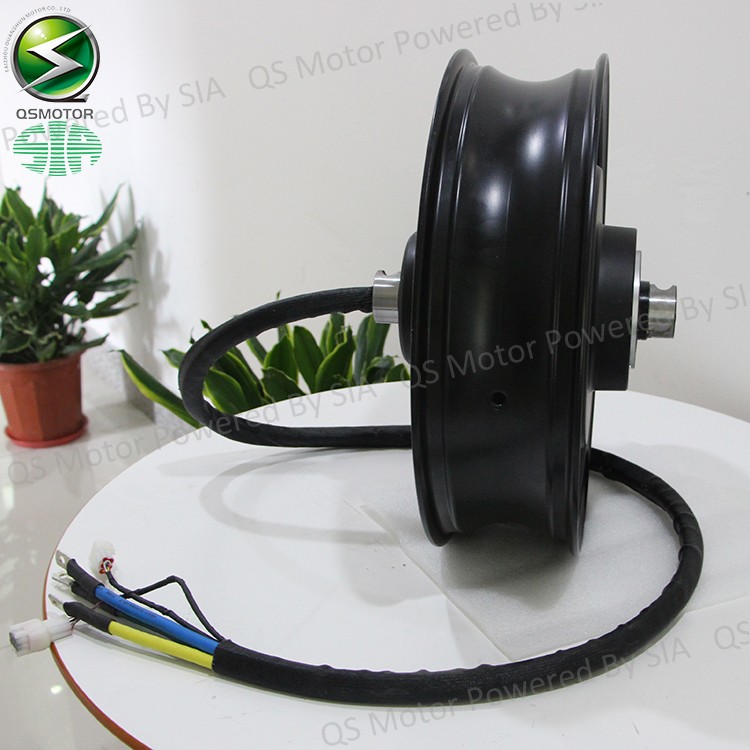 ACCESSORIES DETAILS
Differences between V1, V2 and V3
1). Difference between V1 & V2
Holder: Iron(V1), Aluminum (V2)
Hall: One hall with Normal connector(V1), Two halls with Waterproof connector(V2)
Stator: V2 have a stronger configuration, more cooper, thicker section surface, energy saving in usage.
Magnetic Steel Grade: V2 ≥ V1
Efficiency: 84~87%(V1) 86~88%(V2)
In short, normal type is standard configuration, while export type is high configuration.The price differs because of the cost of raw materials.
2). Difference between V2 & V3
The raw materials are alike, main difference in inner construction.
For V3 (16 Pole Pairs): stronger configuration than V2, wider lamination, more cooper wire /thicker Cross-sectional area section, bear more current in usage.
Higher torque at same current, lower temperature rise, more stable in high current.
Magentic Steel: V3 is wider and thicker.
Efficiency: 86~88%(V2) 88~92%(V3); Thus, V3 have best performance.
PS. for the same V1 steel/iron stator motors, QS Motor performance better on lifetime & stability becasue of good raw material. So the cost is more than normal hub motor in the market.
Drawing
4. How to find suitable hub motor
To customized a suitable motor, could you pls. inform below points:
1.E-scooter, E-tricycle or E-car, tire model?

2.Volt and wattage of motor, Speed(kV), and torque/climb angle ?

3.Your vehicle weight and loading weight?

4.Lithium or lead-acid Battery?
After confirming the motor, we could try to offer suitable motor kits.
Motor Controller
Wheel RIM
Battery
Charger
Speedometer
Throttle
Brake System
DC-DC converter, etc.
5.Comapny Information
6.FAQ
Q1. Are you trader or manufacture?
A: We're manufacture.
Q2. How long is your production time?
A: Generally, the production period is 12-14 working days(6 working days per week).
The specific delivery time depends on the items and the quantity of your order.

Q3. How long is your warranty time?
A: For motor, the warranty time is one year and three months. For other parts, the warranty time is one year.
Q4. About Customs Clearance
For some special countries with strict customs for import, so pls. confirm it firstly to us that you have ability to do customs clearance, otherwise we will not take on heavy responsibilities for this issue, return money and goods are not support.
Special countries list:
Argentina, Brazil, Egypt, Turkey, Iran,Portugal,Romania, Kazakhstan, Ukraine, Yeman etc.
Some countries name not listed, the salesman will inform you in time if you placed the order online directly. Thank you for your understanding.
05. Does your products with CE certification?
Yes, our motor with Certification (CE, CCC), and our factory with certification of ISO9001, TS86949
Application
No QS Motor, No Super EVs!